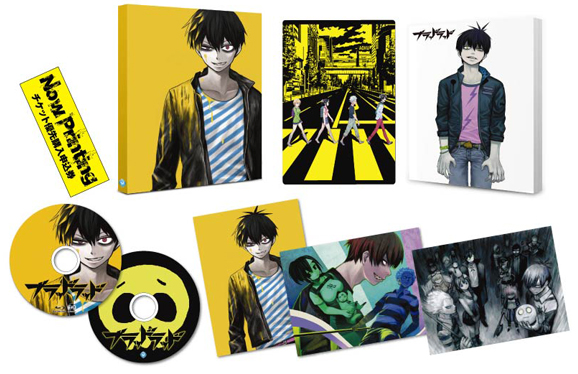 Blood Lad DVD/BD Release Info

Edit
With Blood Lad airing in July, we finally are beginning to hear about the DVD release info. We also learned previously about a limited edition offer, but now we have a bit more concrete info. Blood Lad is getting a Bluray / DVD 5-volume release, starting September 27th, with both formats getting limited editions. Bluray releases will be 7,980 yen, while DVD limited edition is 6,930 yen, and the regular edition 5,880 yen.
According to the information provided, the first volume is said to include the first two episodes of the series, including a 60-page booklet by Yuuki Kodama, an application card for a Japanese-based show event, a drama CD, the raw opening sequence, a round of tabletalk by the cast, postcards drawn by illustrators Huke (Steins;Gate, Black Rock Shooter) and Atsushi Okubo (Soul Eater), and the gatefold case will have a new illustrated jacket by the character designer. The limited editions also look like they will include a CD bonus.
With a 5-volume release of 2 episodes on each DVD, the series is known to have 10 episodes. This is not including the OVA, which will technically constitute 11 episodes. The series length was also confirmed by many TV guides in Japan.
You can see information about the Limited Edition offers here .
(source )