Dark Hero RIsing Official Guide Book

Edit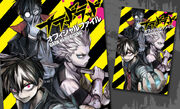 Today on 9/17/13, the Blood Lad site announced the release of the Blood Lad Official Guide Book. It's titled Blood Lad Official File: Dark Hero Rising. It was released on October 10th, and costs 1470 yen in Japan (about $15). The only place I have found to buy it is from Ebay here .
What'll be included:
80 Full-Color pages
Many textless copyrighted images from magazines
A ton of character bio, including birthdays, blood type, and height (So curious about this!!)
Original short story
Interviews with a few voice actors (Staz, Fuyumi, and Bell)
And many more illustrations!

You can read more about it on the official site here !